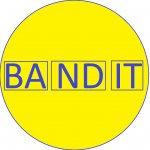 Bandit Machine
Bandit Machine is a simple number based slot machine style game.
Starting with 5000 credits the aim of the game is to reach the top of the leader board. To do this you need to place your bets from 1 to 10,000 tactically and hope the numbers land in your favour.
Match 2 numbers to win twice your bet back and match 3 to win triple your bet.
This is a simple game, no fancy animations or noises just simple play a bet and hope your numbers match up.
NO REAL MONEY INVOLVED
WHEN THE FUN STOPS, STOP!


IARC Certificate Add Supported
IARC Certificate Add Free
Coming soon to amazon app store